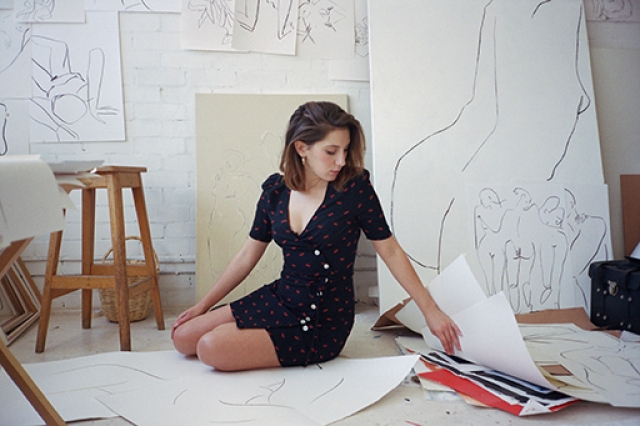 White bricks. Scattered sheets of paper. Paint stains on a stool. By the window, the London roofs tangled together. On Instagram, the picture of a gigantic painting, with this caption "Can someone please take it home ? I need to make more room…"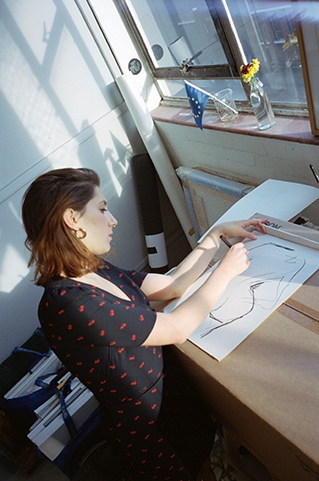 Alexandria is not the kind of artist who over-sanctifies her own art. She'd rather talk about it with a big smile, in the joyful mess of her studio. Most of all, she's an artist who loves other artists ; the most important ones, of course ; and as an admirer of Picasso, she confesses she'd love to have dinner with him, if it weren't too late … As much as the modern ones, that she follows on Instagram. What she loves about them is this special eye they have, that is never the same from one to another. Knowing that an artist's vision of the world is capable of affecting hers deeply fascinates her.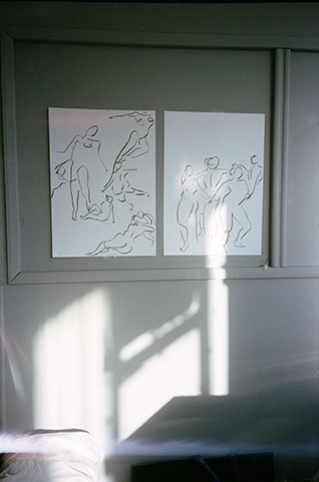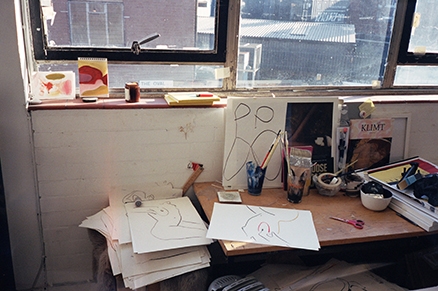 The female body is her main subject ; she feels it close to her art, especially considering that she studied fashion at some point. From these years spent observing clothes and all the theories about them, she remembers the strong feeling that what matters above all is the way clothes evolve on the body, how they exalt and enhance it, how they embrace it. Freeing her drawings of all the pressure that is applied to women bodies nowadays is incredibly close to her heart : "in my drawings, the shapes are free and simple." When Alexandria takes her pencil, she doesn't put herself under pressure either. She simply sits in front of a sheet of paper. "Sometimes it works … Sometimes it doesn't." She's the very essence of spontaneous, and "authentic" is a very important word and concept to her. That's what she values so much in the female body : this authenticity flowing through the curves and the softness. The openness and the attentiveness. An atmosphere she also finds in the morning, at her studio, when she loves drawing the most. The early London light is ideal for her art and inspiration. It's true and natural.
Natural, just like her drawings so perfectly simple, that always look like they're not quite finished. "It's very important for me, this feeling of openness that is wafting from my art. It's an essential freedom, especially considering that we live in a world where everything is computer-made, too colourful, mastered and controlled by softwares. I love this idea of an incomplete and blurred feeling, like an invitation to begin something new. It's so different, and so against everything we live in right now."
The importance given to freedom ; that's the advice she would give to her younger self, first and foremost when it comes to the worth we give to what other people think of you. Evolving for yourself, and just for yourself, is what really matters - she confesses in a whisper that in a way, her paintings picture the person she'd want to be. More quiet, more poised, more confident.
To her eyes, Rouje is a brand, for sure, but also a state of mind ; something really Parisian - and to a Londoner, it's an adjective laden with meaning. "I have this feeling that the Rouje woman is deeply Parisian, in the sense that she blossoms within a casualness, a carelessness, a self-confidence, a perspective. Right now I'm wearing the Gabinette dress, and I love it because it embodies what I think is so beautiful about Rouje : this feeling of wearing clothes that hug the body to exalt it, without being too much, but just enough, as it should be. It's very Jane Birkin."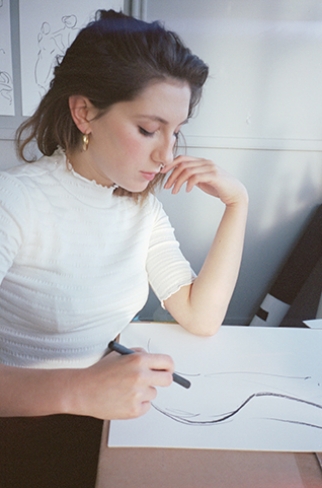 "I love this idea of an incomplete and blurred feeling, like an invitation to begin something new."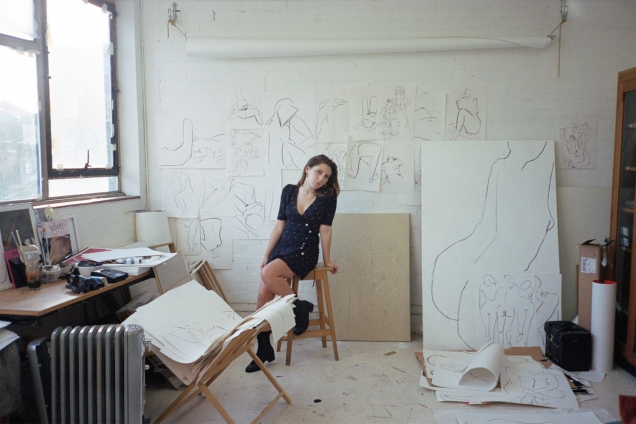 To her, clothes are a way of expressing herself, of showing who you are, how you're feeling, where you're going. When she tells us that her favourite French word is "pamplemousse", with her cute laugh and her British accent, we just want to record her and listen to it for hours. A small touch of vitamin in this London-grey interview, which echoes Alexandria's poetic description of Rouje : "it's a brand that, in an odd and beautiful way, makes you feel like it's always summer."

A ray of sunlight.
Photography by Jeanne Damas
Text by Camille Gross